Auto Frame Straightening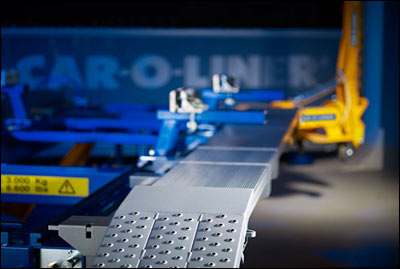 Auto Frame Straightening in Queens, New York City
Our precision unibody frame equipment, coupled with the Car-O-Liner Measuring System guarantee that we'll meet factory specifications within 1/100th of an inch. Moreover, our computerized paint-mixing system and USI Italia Master downdraft paint booth allows us to accurately match the color and beauty of your vehicle's original finish.
At Jamaica Auto Body & Towing, we have invested in cutting-edge technology and facility expansion. One of our important pieces of equipment is the Car-O-Liner Frame Rack, which is BMW and Mercedes Benz Certified. For more than 30 years, Car-O-Liner has provided the automotive industry with safe and profitable collision repair systems. Over 45,000 Car-O-Liner Collision Repair Systems are in use worldwide, and one of them is located right here at Jamaica Auto Body & Towing.
Car-O-Liner products are well known for their high quality, advanced technology and ergonomic design. Car-O-Liner's collision repair equipment is the best made, the easiest to learn, the simplest to use and the most productive. Because Car-O-Liner Frame Racks are so well designed, the auto body repair team at Jamaica Auto Body & Towing can work much faster and more efficiently than on similar equipment. The Car-O-Liner Frame Racks are part of the processes we use to get you and your vehicle back out on the road quicker than any other auto body repair facility in Queens.
Car-O-Liner allows us to work more precisely, making sure your vehicle meets factory specifications. Using the Car-O-Liner frame and structural alignment system, we are able to diagnose damage by taking very precise 3 dimensional measurements and comparing them to factory specifications. We're able to know, with extreme precision, if part of the unibody is out of alignment. Also, since our Car-O-Liner Frame Rack is BMW and Mercedes Benz Certified, we can confidently restore any BMW or Mercedes Benz vehicle to factory specs.
If your vehicle has been damaged in an accident, call today to schedule an estimate at (718) 529-1000.